Show Us The Length...

Thoroughly Canadian

Real

Irreverent

National Melodies

Global Travelers

Bob Bossin

Acoustic

Noteworthy

Daring
"At long last, Stringband is on CD. The Indispensable Stringband is a 46-song, box-set retrospective of Stringband's music, 1972-2002, and it is just $35 and a few key-strokes away. The collection contains all of Stringband's greatest hits, plus never-before-released cuts, and some new pieces. TIS also includes a 50-page history of Stringband's Life and Times by Gary Cristall."
(from Stringband's web site)
A Review by Stringband.com
(Nathan Sanders, stringband.com)
When I launched stringband.com a few years ago, I had never heard of the Canadian band called Stringband. Bob Bossin contacted me about listing his web site on the Stringband.com list of bands and performers. It was then I became somewhat educated on the band Stringband. So I was excited when I learned about this double CD project from Stringband. The band enjoyed a long run traveling all over Canada and the world, with their own unique brand of folk music. Of course the term "folk music" is a generic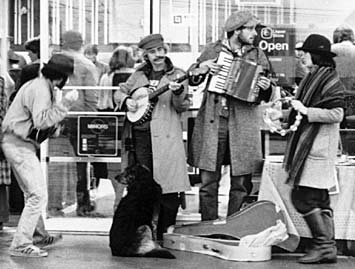 term, for their music encompasses a plethora of styles and cultures. Personally I am no expert on the history of Stringband, but from listening to The Indispensable collection I can tell you that there is something for everyone. Longtime devoted fans of Stringband will be delighted at last to have a more permanent recording of all their favorites. Stringband, you could say, is somewhat of a musical legend in Canada. The Indispensable preserves their musical heritage and also sparks new interest in their music. New listeners, such as I, will be delighted to discover "new" music. For the most part I enjoyed most of the tunes. Some I enjoyed more than others. I should caution new listeners though about some of the content. Beware of the occasional, for lack of a better term, "curse word" and rather personal content of some songs. The boldness of Stringband to sing what they felt is a major characteristic of the band and a factor in their success. For example, I could not believe my ears when I first heard the song "Show Us The Length." It is interesting to hear political songs from other countries and not know the background. Not knowing the whole story, a listener will miss the meaning of some lines and some humor, but still relate to the feel of the song. Political unrest is a universal thing.
In closing, the music of Stringband says it all. Nothing was lost in transferring the music to CD. But if you need to know more about the band, a history is included. Usually the liner notes of CD are called a booklet. The Indispensable includes a 50-page booklet (really more of a book) by Gary Cristall giving a complete history of the band. If you are looking for something new to listen to, check out The Indispensable Stringband. You will not be disappointed. If you would like to buy your own copy, visit Stringband.net today and say Hi to Bob.